WHAT'S UP?



DOWNLOAD

ONLINE MANUAL

CONTACT US

ADVERTISING

MAKING YOUR

SITE PIP-READY


PIP-READY SITES



Pennock's Fiero

Forum
What's P.I.P.?
If you frequently visit internet bulletin boards that support Image Posting, then you are familiar with the hassles of getting that picture off of your hardisk and onto that bulletin board. PIP makes this task a matter of a few clicks! And best of all, PIP is FREEWARE. Not a crippled shareware progam, not a 30-day trial version, but fully functional freeware!


10/28/11 - V1.09 NOW AVAILABLE FOR DOWNLOAD!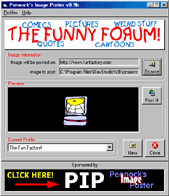 You can now download v1.09 of PIP in our DOWNLOAD section. Since we're continuously trying to improve PIP, please email us any bugs you find. Here are some of the features in v1.08:


Automatic Configuration
Just copy the Auto Config URL from the bulletin board, paste it in PIP and you're ready to start posting images!


Upload History
P.I.P. keeps track of what you posted, and where. Just click the "History" button and pip will give you an overview of all images you posted using the current profile.


URL Copy To Clipboard
After you have successfully uploaded your image, the URL including any tags required by the bulletin board, will be copied to the Clipboard. A simple CTRL-V is enough to include the image in your messages.


Automatic Rename
You can set PIP to overwrite existing files when posting images, or to automatically rename them.


Image Previews
Before posting your image, check it in the preview window. You really don't want to send those private honeymoon pictures by accident, do you?


Auto Profile Update
Auto Config Profiles are now automatically updated every time you start PIP, or when you change profiles. This way, you don't have to manually reload a profile when something changes.