WHAT'S UP?

DOWNLOAD

ONLINE MANUAL


Installation

PIP explained

Profiles

Posting images

Upload history >

CONTACT US

ADVERTISING

MAKING YOUR

SITE PIP-READY


PIP-READY SITES



Pennock's Fiero

Forum
Upload History
After you have posted an image, you can view all images you have ever uploaded (using the current profile) by clicking the History button: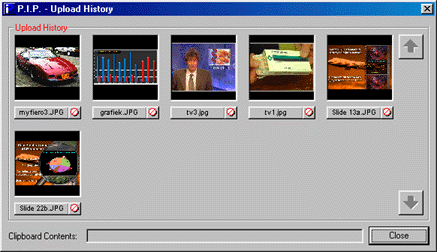 UPLOAD HISTORY - COPYING AN IMAGE'S URL TO THE CLIPBOARD
To re-use the image in another message or email, just click the button with the image's name. The URL including all necessary tags will be copied to the clipboard. To include this URL in your message, press Ctrl-V.


UPLOAD HISTORY - REMOVING AN IMAGE
To remove the image from the upload history, click the little button to the right of an image's name:




This will not remove the image from your harddisk, just from the current profile's history.